Actuate has been invited by Amazon Web Services (AWS) to speak at AWS re:Invent, a cloud technology conference held in Las Vegas. AWS is a global cloud computing platform that promotes the accessibility of deep machine learning infrastructure. Their services have powered Actuate's cloud-based AI models since the start-up's founding in 2018. Actuate is honored to be among only 0.5% of start-ups who use AWS to be represented in a speaking capacity at re:Invent. 
AWS Sagemaker & Inferentia 
The speaking invitation follows the success of Actuate's Data Science team in building out a fully- automated model training pipeline through AWS Sagemaker. Sagemaker enables the automation of machine learning (ML) model training and deployment on the cloud. Along with ML automation, Sagemaker allows the team to train and deploy all Actuate AI models simultaneously, cutting what used to be a month-long process to mere days.
In addition to Sagemaker, Actuate's Data Science team has successfully implemented AWS Inferentia, a machine custom built to provide high-performance, cloud-based ML inference. Inferentia significantly accelerates large deep learning workloads, cutting inference costs by 90%. By working directly with AWS, Actuate has moved their entire ML pipeline to the Inferentia machine. As the complexity of Actuate's models continues to increase, innovations like Sagemaker and Inferentia allow the company to ensure and manage model efficiency and cost-effectiveness, a core component of Actuate's AI technology. 
As a result of the recent AWS innovations, Actuate's models are more customer-oriented than ever. Sagemaker and Inferentia allow us to continuously improve and train models to offer the best, most accurate products possible. As we continue to leverage our success with AWS, Actuate customers should expect to see even fewer threat detection false positives and misses across all products.
Learn more about AWS re:Invent 
AWS re:Invent 2022 will happen November 28th – December 2nd, 2022. Actuate will speak on December 1st, 2022 on the panel "How four customers reduced ML inference costs and drove innovation."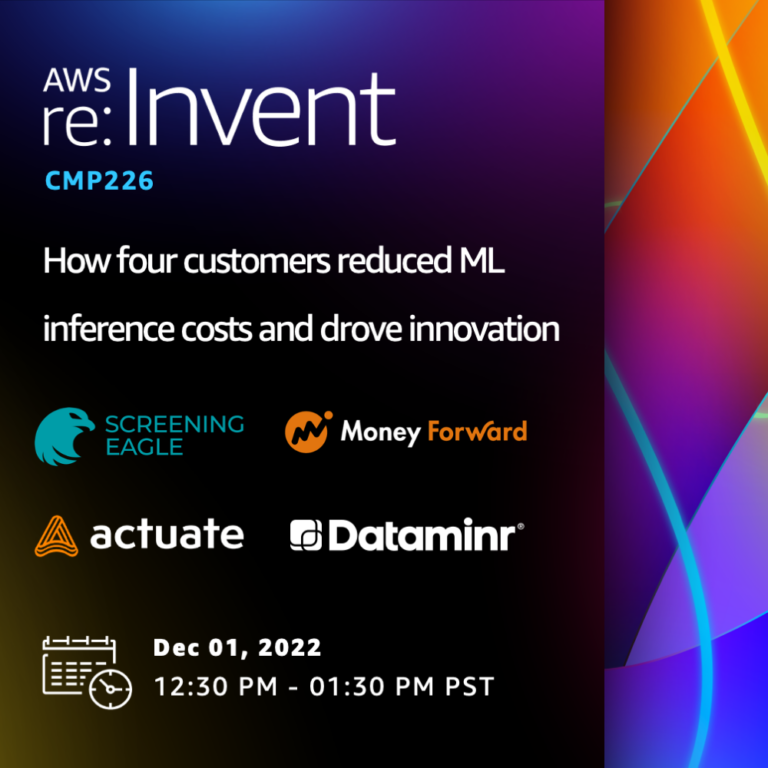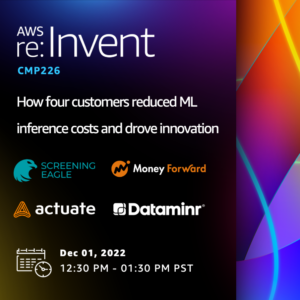 For more information, visit the AWS re:Invent page here. To register for a free online pass to re:Invent, visit the registration page here.